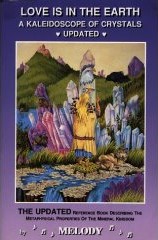 Love is in the Earth: A Kaleidoscope of Crystals
by Melody
The Reference Book Describing the Metaphysical
Properties of the Mineral Kingdom. This book is an
incredible resource for information about crystals.
Paperback: 726 pages
Publisher: Earth Love Pub House
Updated, 3rd edition (January 1, 1995)
Product Dimensions: 9.2 x 6 x 1.6 inches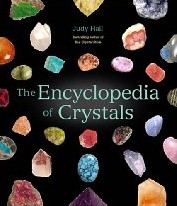 The Encyclopedia of Crystals
by Judy Hall
The ultimate guide to crystals and how to use them!
In The Encyclopedia of Crystals, Judy Hall draws on over 30 years' experience of working with crystals to provide the definitive reference. Lavishly illustrated, featuring newly discovered stones and providing new materials on geology and fluorescent properties, this is an essential addition to the libraries of everyone working with crystals. Organized by crystal color for easy reference, this gorgeous guide relates the colors of crystals to the chakras, tells readers how to cleanse and activate them, and provides helpful, authoritative advice on healing with crystals.
Paperback: 288 pages
Publisher: Fair Winds Press April 1, 2007
Dimensions: 10.9 x 9.4 x 0.9 inches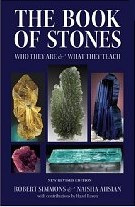 The Book of Stones: Who They Are & What They Teach
by Robert Simmons (Author), Naisha Ahsian (Author)
Product Details
Paperback: 496 pages
Publisher: North Atlantic Books
Revised edition September 4, 2007
Product Dimensions: 10.8 x 7 x 1.3 inches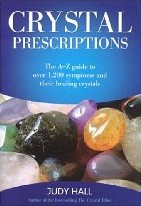 Crystal Prescriptions: The A-Z Guide to Over 1,200 Symptoms and Their Healing Crystals by Judy Hall
Listing over 1,200 symptoms, this is a practical first-aid guide based on sound crystal-healing principles that have been practiced for millennia. Crystals are a gentle, non-invasive system of holistic healing with no side effects. Suitable for children and animals, they can also benefit your environment and your home.
Paperback: 196 pages
Publisher: O Books April 25, 2006
Product Dimensions: 7.2 x 5.1 x 0.5 inches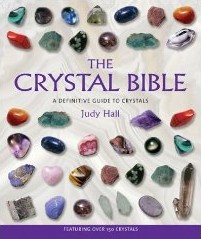 The Crystal Bible
by Judy Hall
Beautifully illustrated, The Crystal Bible offers a comprehensive guide to crystals, their shapes, colors and applications. With informative descriptions and an easy-to-use format, it is an indispensable practical handbook for crystal lovers and users everywhere - both beginner and expert alike.
The book's directory format and beautiful, full-color photos ensure that the crystals are easily identifiable. Descriptions, which accompany each of the crystals, provide all the information on their appearance, worldwide distribution, attributes, actions and healing properties. All the major and less known stones currently available are contained inside, including those only recently discovered. A comprehensive index cross-referencing crystals to applications, aliments and conditions make this book a vital reference for all crystal users.
Paperback: 400 pages
Publisher: Walking Stick Press May 11, 2003
Product Dimensions: 6.5 x 5.5 x 1.1 inches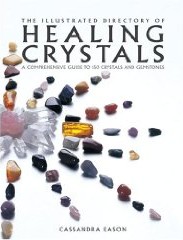 The Illustrated Directory of Healing Crystals: A Comprehensive Guide to 150 Crystals and Gemstones
by Cassandra Eason
Investigate the healing and divinatory power of crystals with this illustrated guide to 150 of the earth's most potent elements. From Agate to Zoisite, each crystal entry includes a color photo, description of properties, listing of associated herbs, oils, and incenses, and astrological significance. You'll not only learn how to identify crystals, but how to harness their powers for decision-making, protection, health, and well-being. Relieve a child's earache with rose quartz or rid the workplace of tension with an amethyst geode tucked in your desk. Whether you carry a core set of crystals, fashion an amulet for portable empowerment, or whip up a pitcher of energy-boosting crystalline water, these practical suggestions can help you face fears and soothe daily stresses.
Paperback: 160 pages
Publisher: Collins & Brown June 28, 2005
Product Dimensions: 10.6 x 8.2 x 0.6 inches